We create and maintain your data protection documentation and guarantee that it is up-to-date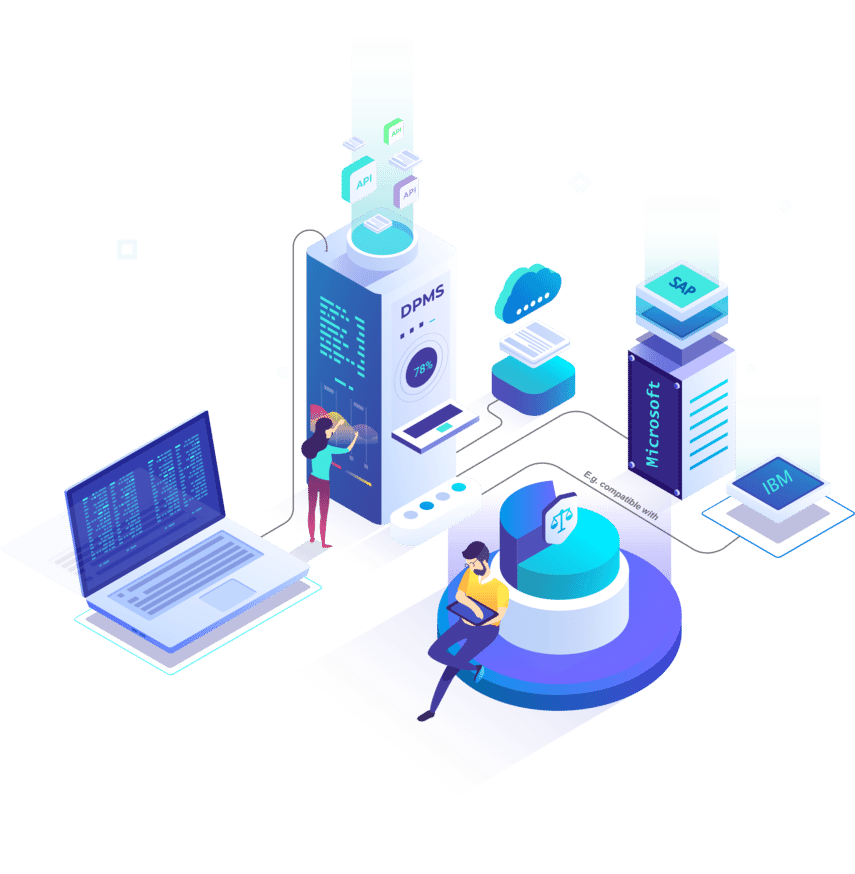 Date Protection Management
List of Processing Activities

✓

Technical Organizational Measures

✓

Stakeholder & Service Provider Management

✓

Contract Management

✓

Task Management

✓

Data Breach Management

✓

Management of legitimate interests

✓

Managing Data Subject Requests

✓

Retention Period Management

✓

Data Privacy Impact Assessment

✓

Systems and Software

✓

Design your Plan Do Check Act Cycle

✓

Manage Data Protection Impact Assessment

✓

Manage Data Subject Access Requests

✓
User Management
E-Mail Notification

✓

Multi-Entity and Group support

✓

Active Directory & LDAP

✓
Support
Phone support by certified DPOs

✓

Setup Assistant

✓
Reporting
Excel (xlsx) Exports

✓

Report Generator

✓
What makes us unique:
Our technology enabled on-stop shop approach to data protection.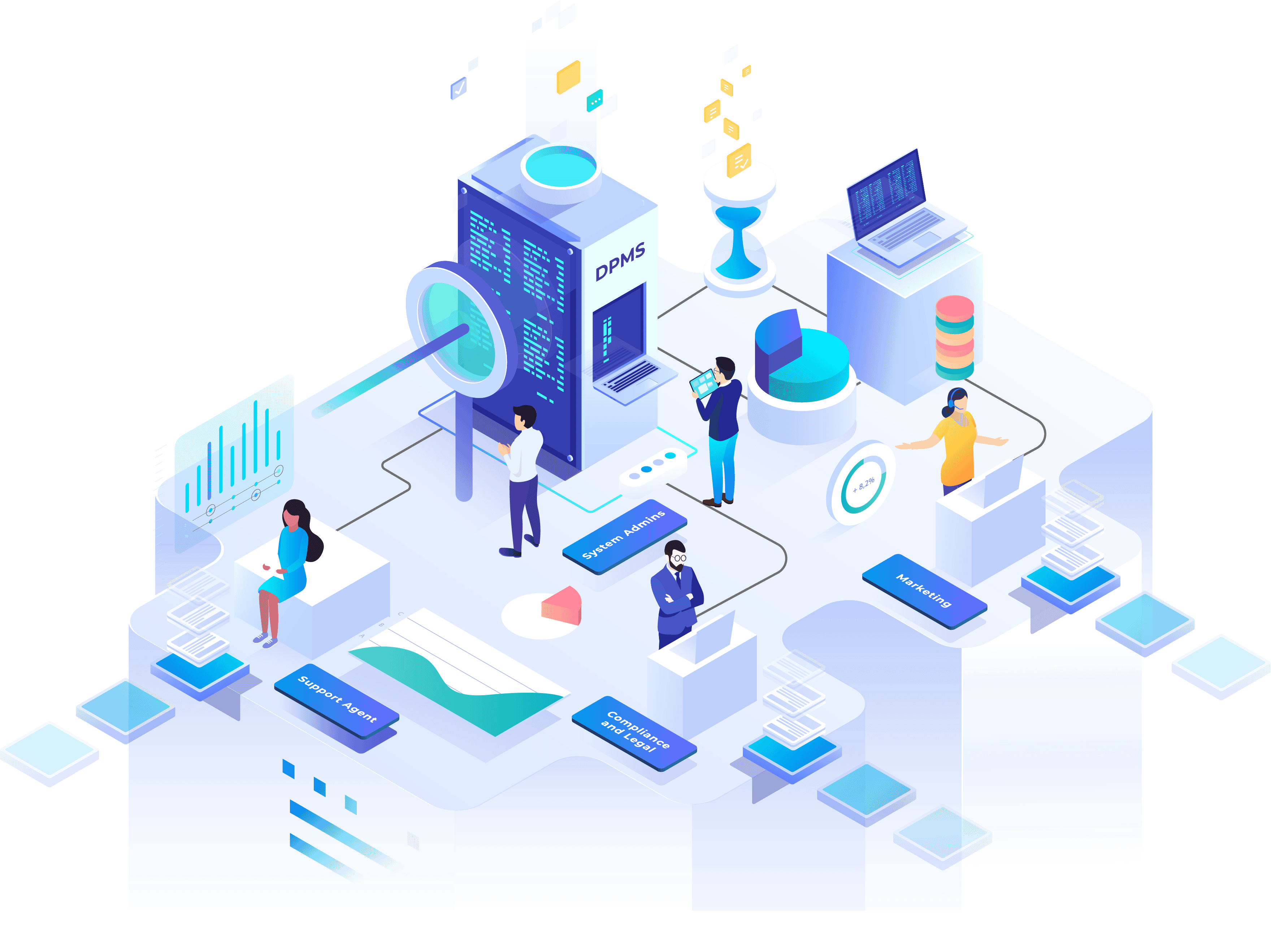 The Compliance Layer
Using the DPMS compliance layer on top of your data sources, your organization can manage the legal basis for processing, third parties and data sharing as well as the automated decision making and profiling in one place. By building the compliance layer on top of your data sources, you cancel out the previous risk of hidden data and hidden data sources. Try our solution today and join the next generation of automated data protection management.
Enterprise Grade Data Protection
Connects to:
The trademarks and intellectual property rights belong to their respective owners. Raptor Compliance does not assert any rights in or affiliation with these companies or brands.
High-End Software Tools
Hands-free management & installation
Uncomplicated Onboarding
Direct connection to your data source (MySQL, MSSQL, Oracle, SAP, Fileserver and many more)
Remote Expert Support (Phone & Online) with highly trained experts
Ensure process optimization by automatizing key data protection challenges with the Raptor Compliance Data Protection Management System.
All compliance processes and documentation in on place
The DPMS enables managing of all stakeholders (controllers and processors), maintaining the Record of Processing Activities (ROPA) including Technical and Organizational Measures (TOM) in one solution. Additionally, reports are provided and key information such as legal basis of processing, retention periods and data transfers abroad are captured.
Risk reduction through standardization
No more creating your own scripts to aggregate the data for a data subjects report. No human mistake due to the repetitive tasks of collecting and preparing the data for a data subject access report. No more uncertainty whether all data was collected, and the compliance information correctly communicated (retention periods, rights etc.).
Full compliance due to software processes
Reports and actions are performed by the DPMS, which ensures that all compliance tasks within the system are performed compliant with the GDPR and any other applicable data protection laws (customizable).
Time saving due to automatization
By using straight through processing hardly any human involvement is needed, reducing the time constraints of support agents, IT systems administrators, compliance departments, marketing departments and data protection officers.
Improved stakeholder experience
Create your bespoke web form (called Frontend) and reports in line with your corporate communication strategy. The individual frontends of the DPMS allow you to integrate the DPMS interfaces with any page, intranet, portal or custom design.
Readiness for data breaches
In case of a data breach, fast reaction is key. With the DPMS you will not only have access to all required information in one place but also have a tool to easily fulfil a large amount of Data Subject Access Request that usually occur after a data breach.
Explore our Data Protection Solution today!
Connect your data sources
The DataProtectionMS creates a unique way of managing data protection compliance by connecting itself with your data sources. Using a data driven approach as opposed to a questionnaire or consulting driven approach, our customers are able to minimize and even abolish the white spots in their data protection compliance landscape. Questionnaires are only as good as the answers. Our solution mitigates this uncertainty by taking the data sources as its reference for compliance.
The supported data sources are nearly endless. From relational databases such as MSSQL, MYSQL, PostGres, MariaDB, Firebase to enterprise systems such as Oracle, IBM DB2 and SAP nearly any data source can be added. We also support File Servers from Linux and Microsoft as well as Mail Servers such as MS Exchange and IBM Domino. Furthermore we can customize our solution to fit the needs of your non-structured data in data sources such as MongoDB, Hadoop or other data ocean solutions. Contact us today if you have any specific compatibility question. We are happy to assist you.
Connect your data via workflows
Our workflows enable you to adjust your data protection processes to your database structures and internal requirements.
Small

LOW

Privacy Requirements

Workshops

Retail

Hospitality Industry

Workshops

Basic

MEDIUM

Privacy Requirements

Advertising Agencies

industrial Enterprises

Construction/Real Estate Industry

Travel, Tourism, Hotels

Standard

HIGH

Privacy Requirements

Doctors, Pharmacists

Attorneys, Tax Experts, Consultants

Online Stores

Small IT Companies

Extended

VERY HIGH

Privacy Requirements

Financial Enterprises

Personnel Service Provider

Software/Platform Solutions
You want more information? Sure!
Any questions? Contact us!

Call us: +41 44 586 97 90
E-mail us:

moc.ecnailpmocrotpar@tcatnoc


Postal Address: Technoparkstrasse 1, 8005 Zürich, Switzerland